Women's Tefillah Group
Women's Tefillah Group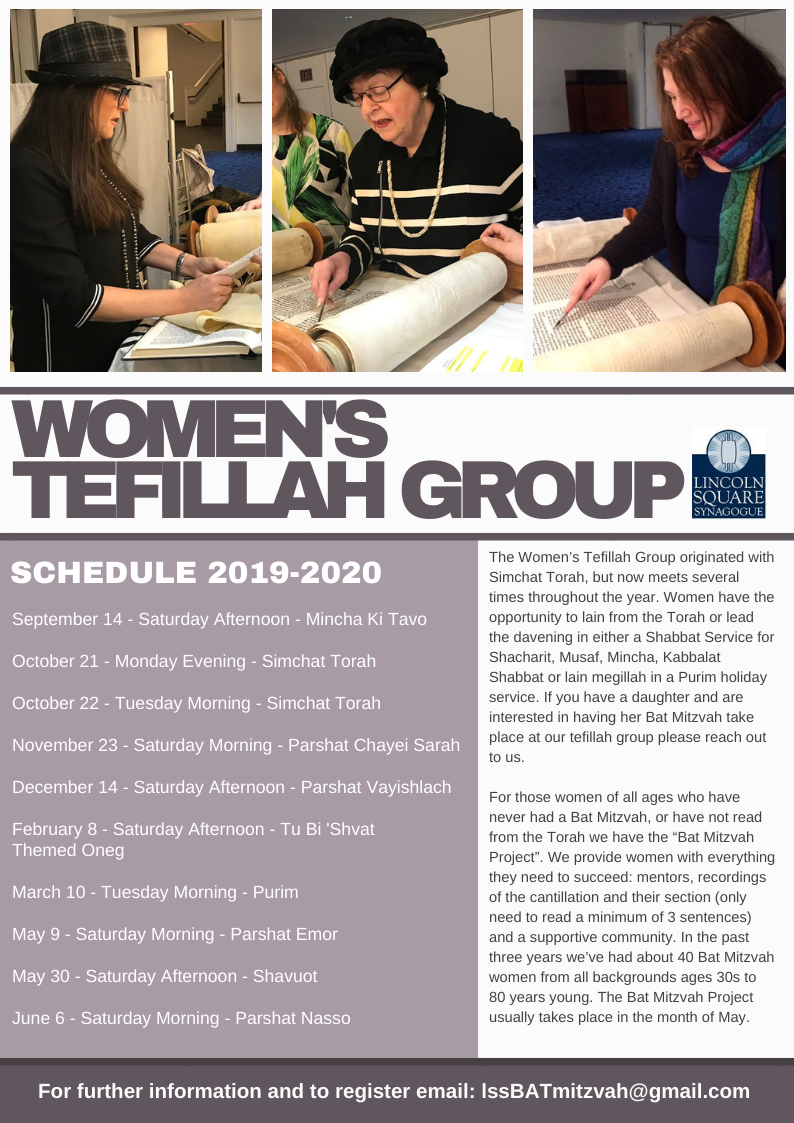 Click Here for further information & to register
The Women's Tefillah Group of LSS is availiable to help you plan and create a meaningful Bat Mitzvah for your daughter, should you be interested in having it take place in our women's service. The Bat Mitzvah can prepare (through a teacher of your choosing) to lain all or parts of the Torah portion and to lead all or parts of the davening - in either a Shabbat service for Shacharit, Musaf, MIncha; Kabbalat Shabbat; or lain megillah in a Purim holiday service!
There might be options/opportunities available for a Sunday Rosh Chodesh service as well.
We can offer support in planning for the service and additional women to lain and or lead the tefilah as needed.
Mon, September 20 2021
14 Tishrei 5782
Eruv is UP
For Shabbat of
September 17-18
*Please note due to construction 9 & 10 Av between 20 & 22 St are not in the eruv until further notice
For more eruv information
Contact Us:
Lincoln Square Synagogue 180 Amsterdam Avenue New York, NY 10023

Phone: (212) 874-6100
Fax: (212) 877-4065 Email: info@lss.org
Have a Question?
Please don't hesitate to contact the shul office at:
(212) 874-6100
Melanie Vesely:
Membership Experience Coordinator
ext. 105
Book Reservations (high holidays and events)
Echod Newsletter Submissions
Kiddush Sponsorship
Yahrzeit Information
New Member Info.
Member Experience Support
Book Reservations (high holidays and events)
Hailey Pryce-Shidler
Administrative Assistant
ext. 104
Boost Your Business
Flyers & Promotion
Program Inquiries
Volunteer Run Events
Social Media
Devora Movtady:
Business Manager ext. 106
Account & Billing Questions
Donations & Payments
Event Space Inquiries
Make LSS your charity of choice!
Mon, September 20 2021 14 Tishrei 5782