Women's Tefillah Group
Women's Tefillah Group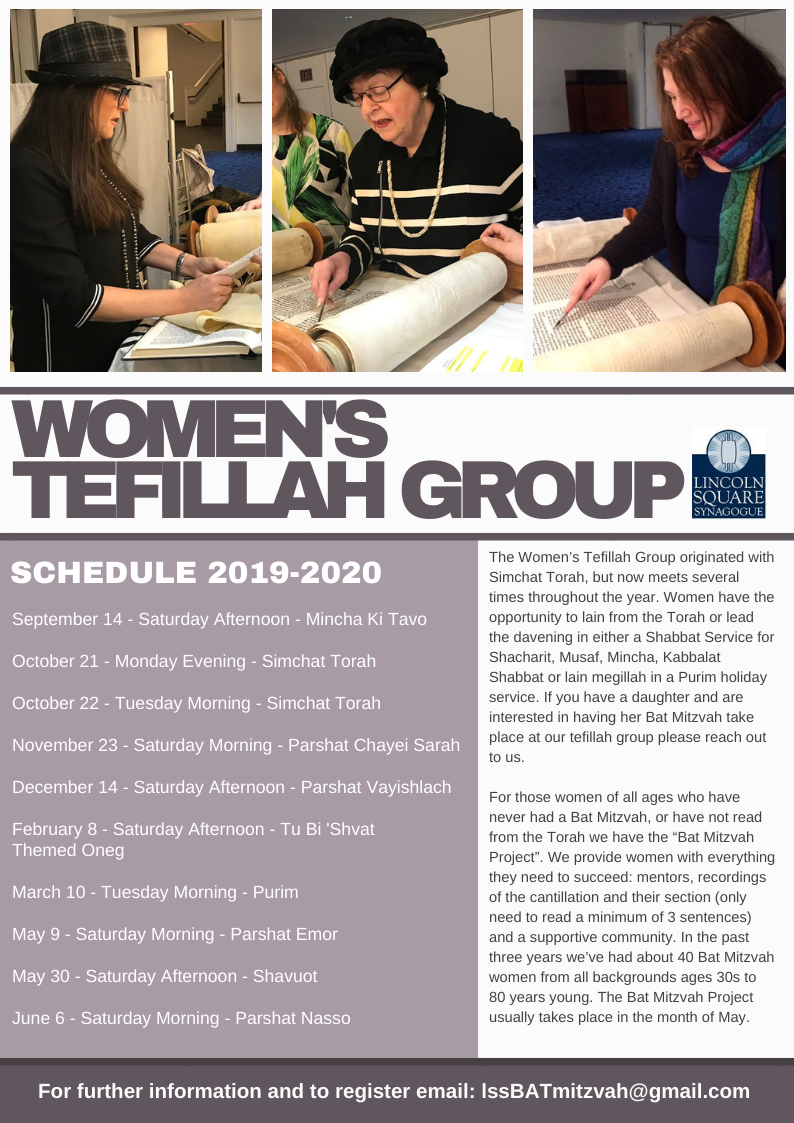 Click Here for further information & to register
The Women's Tefillah Group of LSS is availiable to help you plan and create a meaningful Bat Mitzvah for your daughter, should you be interested in having it take place in our women's service. The Bat Mitzvah can prepare (through a teacher of your choosing) to lain all or parts of the Torah portion and to lead all or parts of the davening - in either a Shabbat service for Shacharit, Musaf, MIncha; Kabbalat Shabbat; or lain megillah in a Purim holiday service!
There might be options/opportunities available for a Sunday Rosh Chodesh service as well.
We can offer support in planning for the service and additional women to lain and or lead the tefilah as needed.
Wed, February 26 2020
1 Adar 5780
Today's Calendar
---
Tomorrow's Calendar
Daf Yomi

: 6:15a
Shacharit

: 7:00a
Shacharit

: 7:50a
Women's Talk Time

: 11:30a
Mincha/Maariv

: 5:35p
Parsha Class

: 7:00p
Cholent Chabura

: 8:45p
---
Friday Night
Earliest Candle Lighting

: 4:36p
Candle Lighting

: 5:28p
Mincha/Kabbalat Shabbat

: 5:30p
Shabbat Across America
: 6:45p
Shabbat Day
Hashkama Minyan

: 7:45a
Parsha Shiur

: 8:30a
Shacharit

: 9:00a
Beginners Service

: 9:15a
Latest Shema

: 9:18a
Rabbi H. Cohen Memorial Minyan

: 9:45a
Youth Groups

: 10:00a
Spanbock Lecture
: 11:15a
Bikur Cholim

: 3:00p
Beginners Mishna Chavura

: 3:30p
Bible Class

: 4:30p
Louis & Rhoda Lazar Memorial Shiur

: 4:30p
Mincha

: 5:15p
Ma'ariv/Shabbat Ends

: 6:30p
What Matters Lecture
: 8:00p
This week's Torah portion is

Parshat Terumah
Candle Lighting
Rosh Chodesh Adar
View Calendar
Contact Us:
Lincoln Square Synagogue 180 Amsterdam Avenue New York, NY 10023

Phone: (212) 874-6100
Fax: (212) 877-4065 Office Hours: Monday- Thursday: 9:00am-5:00pm Friday:9:00am- 1:00pm
Have a Question?
Please don't hesitate to contact the shul office at:
(212) 874-6100
Julie Rosenthal:
Receptionist ext. 105
Book Reservations (high holidays and events)
Echod Newsletter Submissions
Kiddush Sponsorship
Yahrzeit Information
ext. 104
Book Reservations (high holidays and events)
Boost Your Business
Flyers & Promotion
New Members
Program Inquiries
Program Needs for Volunteer Run Events
Social Media
Devora Movtady:
Business Manager ext. 106
Account & Billing Related Questions
Donations
Event Space Inquiries
Payments
Make LSS your charity of choice!
Wed, February 26 2020 1 Adar 5780