Women's Tefillah Group
Women's Tefillah Group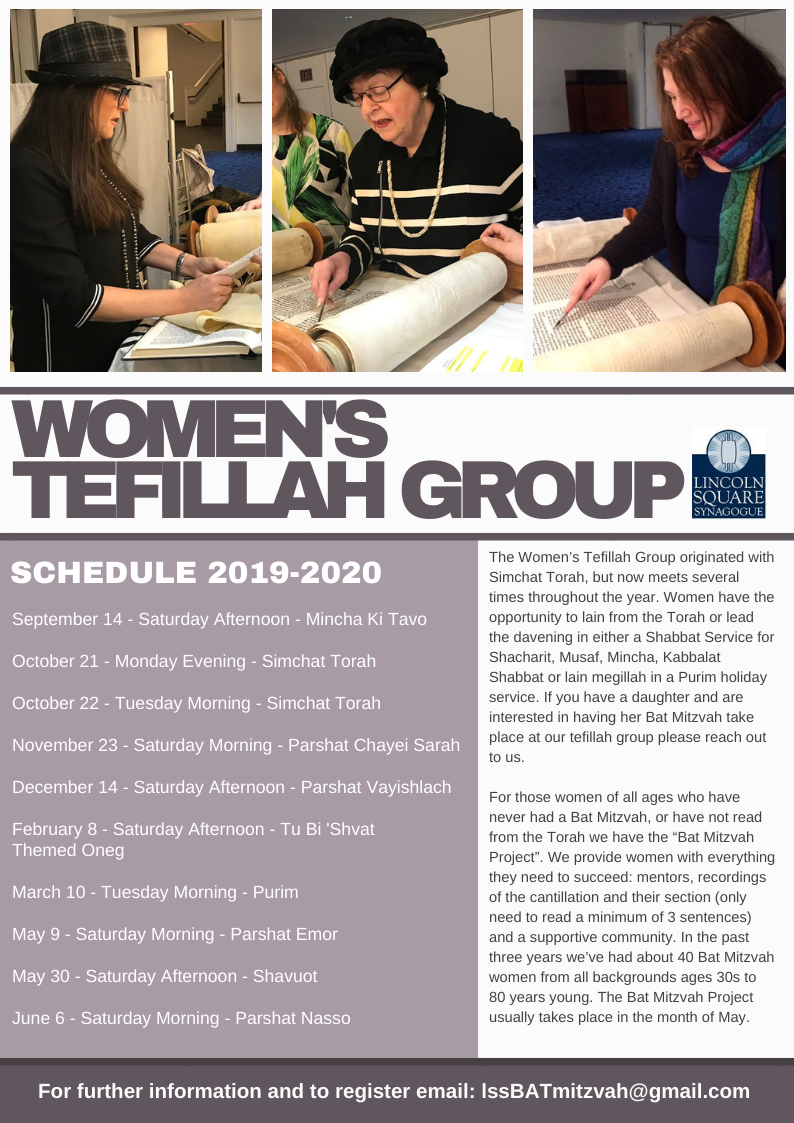 Click Here for further information & to register
The Women's Tefillah Group of LSS is availiable to help you plan and create a meaningful Bat Mitzvah for your daughter, should you be interested in having it take place in our women's service. The Bat Mitzvah can prepare (through a teacher of your choosing) to lain all or parts of the Torah portion and to lead all or parts of the davening - in either a Shabbat service for Shacharit, Musaf, MIncha; Kabbalat Shabbat; or lain megillah in a Purim holiday service!
There might be options/opportunities available for a Sunday Rosh Chodesh service as well.
We can offer support in planning for the service and additional women to lain and or lead the tefilah as needed.
Fri, August 7 2020
17 Av 5780
Contact Us:
Lincoln Square Synagogue 180 Amsterdam Avenue New York, NY 10023

Phone: (212) 874-6100
Fax: (212) 877-4065 Email: info@lss.org
Have a Question?
Please don't hesitate to contact the shul office at:
(212) 874-6100
Julie Rosenthal:
Receptionist ext. 105
Book Reservations (high holidays and events)
Echod Newsletter Submissions
Kiddush Sponsorship
Yahrzeit Information
ext. 104
Book Reservations (high holidays and events)
Boost Your Business
Flyers & Promotion
New Members
Program Inquiries
Program Needs for Volunteer Run Events
Social Media
Devora Movtady:
Business Manager ext. 106
Account & Billing Related Questions
Donations
Event Space Inquiries
Payments
Make LSS your charity of choice!
Fri, August 7 2020 17 Av 5780