| | |
| --- | --- |
| Author | |
| Date Added | |
| Automatically create summary | |
| Summary | |
Preparations
"And he sent Yehudah before him to Yosef, to Goshen to prepare before him; and they came to the land of Goshen."
Yaakov is well-versed in the fine art of moving. There is good reason his symbol is the staff he used to cross the Jordan River. So it behooves us to learn how to prepare ourselves for such transitions from him. He did not move down to Yosef's house in Egypt with his...Read more...
| | |
| --- | --- |
| Author | |
| Date Added | |
| Automatically create summary | |
| Summary | |
Over the past couple of months, LSS has hosted speakers from Beit Morasha. As a quick reminder, Beit Morasha of Jerusalem (BMJ) was founded to cultivate leaders with the necessary skills and vision to respond to troubling trends that threaten the continuity and resilience of the Jewish people. A pioneer in integrating advanced Jewish studies and Western culture, Beit Morasha's revolutionary approach lies in creating a committed, intellectual...Read more...
Fri, July 10 2020
18 Tammuz 5780
Beit Morasha
Beit Morasha of Jerusalem (BMJ): The Center for Advanced Judaic Studies and Leadership is devoted to advancing a vibrant and inclusive vision of Judaism, through cultivating inspired and dynamic Jewish leadership for the State of Israel and the Jewish world.
Rabbanit Michal Tikochinsky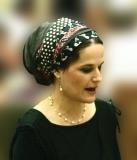 Commentary on the parshat ha'shavua is provided by Rabbanit Dr. Michal Tikochinsky.
Rabbanit Tikochinsky is one of the leading women Talmud scholars and educators in the world today, a sought after lecturer in Talmud, Jewish law and women's issues.
She is Director of Beit Morasha's Moshe Green Beit Midrash for Women's Leadership and the Women's Halakha Program, which offers a select group of senior women Torah scholars the opportunity to study and take examinations that are parallel to the requirements for male rabbinical candidates in Israel.
Fri, July 10 2020 18 Tammuz 5780