Wed, November 30 2022
6 Kislev 5783
Beit Morasha
Beit Morasha of Jerusalem (BMJ): The Center for Advanced Judaic Studies and Leadership is devoted to advancing a vibrant and inclusive vision of Judaism, through cultivating inspired and dynamic Jewish leadership for the State of Israel and the Jewish world.
Rabbanit Michal Tikochinsky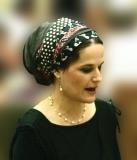 Commentary on the parshat ha'shavua is provided by Rabbanit Dr. Michal Tikochinsky.
Rabbanit Tikochinsky is one of the leading women Talmud scholars and educators in the world today, a sought after lecturer in Talmud, Jewish law and women's issues.
She is Director of Beit Morasha's Moshe Green Beit Midrash for Women's Leadership and the Women's Halakha Program, which offers a select group of senior women Torah scholars the opportunity to study and take examinations that are parallel to the requirements for male rabbinical candidates in Israel.
Wed, November 30 2022 6 Kislev 5783