Tamar Fix, Executive Director
Tamar Fix is thrilled to be at Lincoln Square Synagogue as Executive Director. Tamar appreciates the eclectic nature of Synagogue work & community center work as it offers the opportunity & excitement of being in a constant state of learning and growth. One of her greatest joys is connecting with people on a multi-generational level and she feels gratified in working at Lincoln Square Synagogue and getting to know the members. Tamar brings her strong interpersonal and administrative skills to LSS as well as her personal commitment to Modern Orthodox Jewish life, tradition and community. Though her goals as ED are lofty, chief among them is to become an honorable link in LSS's humble and historical 1964 beginnings. It is truly an honor to be part of such a venerable institution.
Tamar received her B.S. from Queens College and earned her M.A. from Hofstra University in Marriage & Family Therapy. In addition to her Synagogue & Jewish communal work, Tamar is a published author whose writing has appeared in both book form and periodicals. Fluent in Hebrew & raised steeped in both Israeli and American culture, Tamar is equally at home in each. Tamar currently resides in Queens, NY with her son Nate. You can email Tamar at tamar@lss.org or reach her by calling (212) 874-6100 ext 101
Robin Epstein, Administrative Assistant
Originally from Englewood NJ, Robin is now a resident of the Upper East Side. She graduated from Yeshiva University with a Bachelors in Science and has experience in multitude fields including jewelry, sales, finance and as a personal assistant. Robin is always looking to accomplish the task at hand swiftly and efficiently, and utilizes her strong organizational skills to do so. Her ability to be flexible and juggle multiple projects at once are sure to make her a great addition to LSS. Robin is always looking to lend a helping hand as she is passionate about giving to those around her. She believes that kindness and a smile is the best way to approach any situation and truly looks forward to getting to know our members.
You can reach Robin at robin@lss.org or by calling 212-874-6100 ext 105
Devora Movtady, Finance Administrator

Devora attended Yeshiva University, with a concentration in History. She spent many summers in Israel coordinating and organizing group shabbat meals in Jersualem for Birthright participants. After working as a bank teller in Great Neck, she became a credit analyst at Wisdom Portfolio services. Her passion to serve the Jewish Community led Devora to Lincoln Square Synagogue, where she became the Finance Administrator in 2013. She currently resides on Long Island.
You can reach Devora at devora@lss.org or by calling 212-874-6100 ext 106
Alanna Caplin, Program Coordinator
Originally from Dublin Ireland, Alanna moved to England with her family where she spent her childhood and teenage years. Alanna relocated to Israel in 2011 where she graduated from IDC Herzliya with a Bachelors in Communications. She moved to New York in 2014 to complete her Masters of Science in Media Management. Alanna's specializes in social media, digital marketing and content development. Her past experiences and commitment to the Jewish nonprofit world, most recently working for the Orthodox Union, brought her to Lincoln Square Synagogue. She currently resides in Chelsea, New York.
You can reach Alanna at alanna@lss.org or by calling 212-874-6100 ext 104.
Ruth Kobrin, Social Worker
Ruth Kobrin, LMSW is a senior social worker with the Jewish Board, and works as a Jewish consultant in the Partners in Caring program of UJA/Federation.
A graduate of the NYU School of Social Work, she has served as a senior therapist and social worker at area synagogues for over eighteen years. She provides counselling to the entire congregational community, facilitates support groups, offers workshops in Jewish family life education, creates programs of interest to the congregations, and provides individual referrals to human service agencies.
She has served on various UJA/Federation committees and was president of the Joint Passover Association which annually aided over 15,000 needy Jewish in the metropolitan area. She and her family live on the West Side and are members of several orthodox synagogues. You can email Ruth at socialworker@lss.org or by calling (212) 874-6100 ext 103
Ariella and Mendel Lazaros, Youth Directors
Ariella and Mendel Lazaros have lived in Manhattan for over six years and on the Upper West Side for the last three. They are both graduates of Yeshiva University and carry a combined 10+ years of experience in developing fun and engaging youth programs for Jewish children. Ariella and Mendel have run Youth Programming and Teen Clubs for Pesach in the Bahamas, Cancun, Mexico, and San Diego, California. Together, they are loving parents to an 18 month old daughter.
Mendel is a graduate of Yeshiva University, Accounting (14'). Mendel is a recipient of the Comcast Leaders and Achievers Scholarship and received the Meyer E. Shatz Memorial Award for outstanding achievement in Judaics Studies at YU. When he's not co-directing the youth department, Mendel works for Smartling, a cloud-based technology business, using data to improve translation outcomes. Mendel has helped organizations such as The Boston School's Fund to grow the number of school seats available so that every child can attend a great school.
Ariella is a graduate of Yeshiva University, Sociology (14') and minor in Early Childhood Education. Ariella was the assistant director for the Playmakers JCC Camp in Cleveland, OH for three years and worked as TA, Special Education for the Park Synagogue School. Ariella has taught fourth grade at the 92nd street Y Hebrew School and Montessori based preparatory curriculum at the Goddard School of Manhattan. When she's not co-directing the youth department, Ariella teaches 6th grade students of Chabad Hebrew School, and 3rd-grade students of Kivun, an after school Jewish educational experience for students of Harlem Hebrew Charter School.
Ariella and Mendel can be reached at youth@lss.org
Ariel and Danielle Sterman, Teen Directors
Hillel
communities during their undergraduate
careers, where
they created and ran various programming including musical
Rosh Chodesh Minyans, evening
Torah classes, and chessed
activities. They've also led 3 Birthright tours,
taking teens and
young adults on their
first trips to Israel. They continue to bring
that energy to the Upper West Side
where they love to host
Shabbat guests and Shiurim at their home. They recently received the UES Chabad
Young Professionals Jewish People's Choice Awards for 'Making a Difference'.
Danielle is currently pursuing an MSW at Columbia University where she is training to become a clinical social worker, through which she has gained a wealth of experience working with adolescents. She received her B.S. in Psychology from NYU's College of Arts and Sciences along with a minor in Hebrew and Judaic Studies ('15). Ariel graduated NYU Stern ('14) with a concentration in Finance and Marketing. During the week, he works at Stripes Group, a venture capital firm in NYC. He also cofounded Good Street, a non-profit tech startup, and sits on the board of Knock Knock, Give a Sock.
Julia Baruch, Yoetzet Halacha
Julia Baruch
serves as the Yoetzet Halacha at Congregation Kehilath Jeshurun and West Side Institutional Synagogue in addition to Lincoln Square Synagogue. She studied at the Stella K. Abraham Beit Midrash for Women – Migdal Oz for one year after attending the Ramaz Upper School. Julia graduated from Columbia University cum laude with a B.A. in Psychology. She then graduated from Nishmat's Miriam Glaubach Center's U.S. Yoatzot Halacha Fellows Program. Julia worked as a research assistant at Columbia University Medical Center's Taub Institute for Research on Alzheimer's and the Aging Brain and she plans to pursue a doctoral degree in Clinical Psychology. She grew up in Englewood, NJ and currently lives on the Upper West Side with her husband, David, and son, Jacob. E-mail at JB.Yoetzet@gmail.com.
Meet Our Facility Staff
Byron Johnson

Facility Manager
byron@lss.org
(212) 874-6100
ext 102
Antonio
Corey
John
Heimy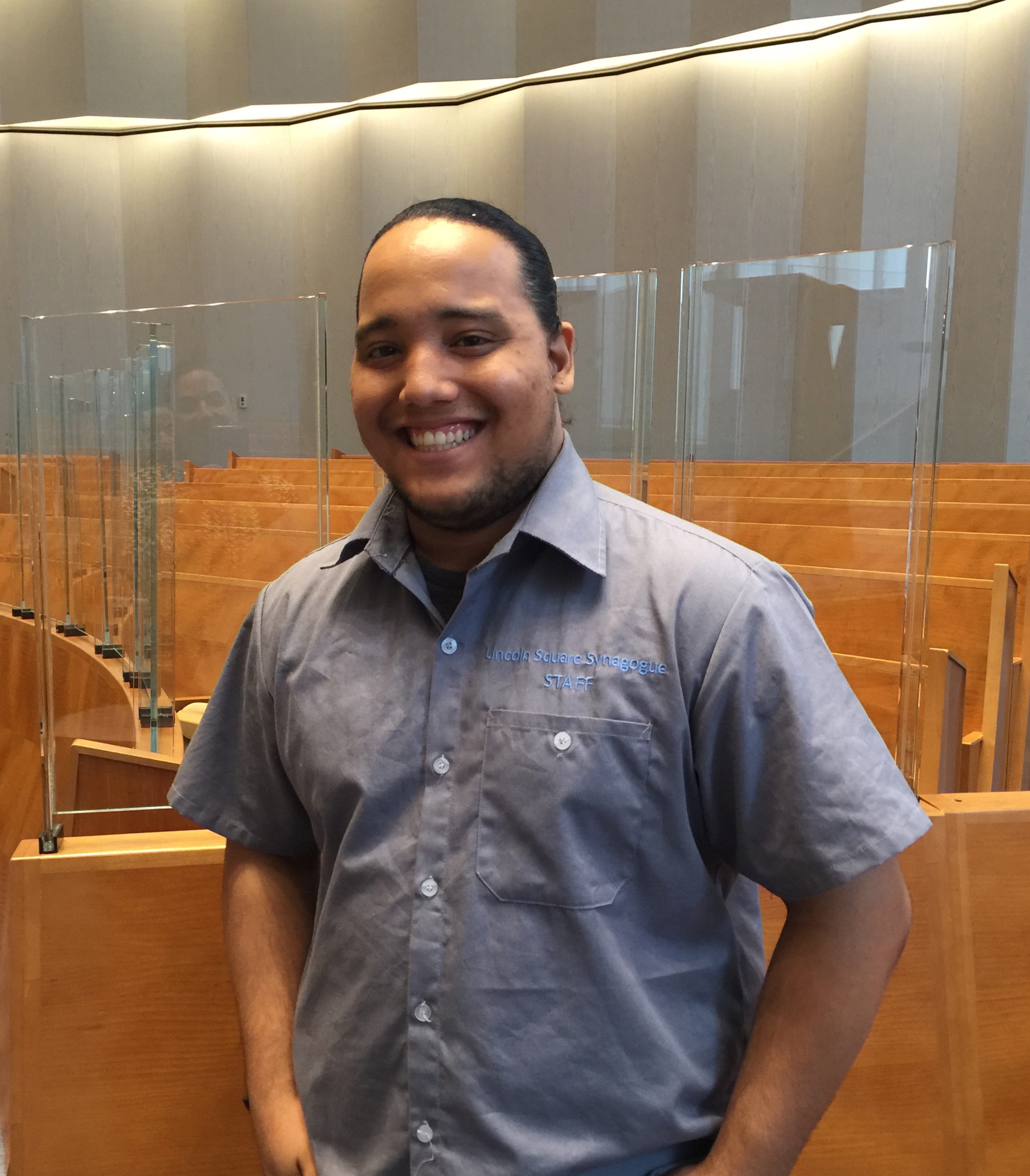 Kelvin
Rosa
Brittany
Tue, March 20 2018 4 Nisan 5778