Unsealing the Seals: Shulie Mishkin
Monday, June 24, 2019
•
21 Sivan 5779
7:00 PM - 9:00 PM
206/207
A truly exciting moment for an archaeologist is finding an artifact with writing on it. Writing tells a story and gives us insight into the past. In this talk we will find out about the revolution of the alphabet, look at seals and signet rings to find out who had power in ancient times, learn how they give us a better understanding of the Tanakh and get some "regards" from Biblical figures.
Shulie Mishkin made Aliyah from New York with a Master's degree in Jewish History from Columbia University. She is currently a tour guide in Israel. Her tours provide a complete picture of the land of Israel and Jewish heritage, with a strong reliance on sources ranging from the Bible to 19th century travelers' reports. Shulie also teaches "tour and text" courses in the Jerusalem institutions of Pardes and Matan, and provides tours for special needs students in the "Darkaynu" program. She lives in Alon Shvut with her husband Jonathan and their five kids.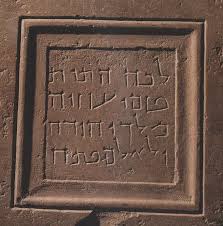 Share Print Save To My Calendar
Sun, June 16 2019
13 Sivan 5779
Eruv is UP
For Shabbat of
June 14-15
Today's Calendar
---
Tomorrow's Calendar
Daf Yomi

: 6:15a
Shacharit

: 7:00a
Shacharit

: 7:50a
Beit Midrash Program

: 10:00a
Membership Meeting
: 6:45p
Conversational Hebrew (Chug Ivrit)

: 7:00p
Mincha/Maariv

: 8:20p
---
Friday Night
Earliest Candle Lighting

: 6:57p
Mincha/Kabbalat Shabbat

: 7:05p
Candle Lighting

: 8:13p
Mincha/Kabbalat Shabbat

: 8:15p
Shabbat Day
Hashkama Minyan

: 7:45a
Parsha Shiur

: 8:30a
Shacharit

: 9:00a
Latest Shema

: 9:10a
Beginners Service

: 9:15a
Rabbi H. Cohen Memorial Minyan

: 9:45a
Youth Groups

: 10:00a
Bikur Cholim

: 4:00p
Beginners Mishna Chavura

: 6:15p
Bible Class

: 7:00p
Louis & Rhoda Lazar Memorial Shiur

: 7:00p
Mincha

: 8:00p
Ma'ariv/Shabbat Ends

: 9:14p
Parshat Beha'alotcha
Candle Lighting
Shabbat Mevarchim
View Calendar
Contact Us:
Lincoln Square Synagogue 180 Amsterdam Avenue New York, NY 10023

Phone: (212) 874-6100
Fax: (212) 877-4065 Office Hours: Monday- Thursday: 9:00am-5:00pm Friday:9:00am- 1:00pm
Have a Question?
Please don't hesitate to contact the shul office at:
(212) 874-6100
Julie Rosenthal:
Receptionist ext. 105
Book Reservations (high holidays and events)
Echod Newsletter Submissions
Kiddush Sponsorship
Yahrzeit Information
Stephanie Iskhakov:
Event & Media Coordinator
ext. 104
Book Reservations (high holidays and events)
Flyers & Promotion
New Members
Program Inquiries
Program Needs for Volunteer Run Events
Social Media
Devora Movtady:
Business Manager ext. 106
Account & Billing Related Questions
Donations
Event Space Inquiries
Payments
Make LSS your charity of choice!
Sun, June 16 2019 13 Sivan 5779