Tamar Fix, Executive Director
Tamar Fix is thrilled to be at Lincoln Square Synagogue as Executive Director. Tamar appreciates the eclectic nature of Synagogue work & community center work as it offers the opportunity & excitement of being in a constant state of learning and growth. One of her greatest joys is connecting with people on a multi-generational level and she feels gratified in working at Lincoln Square Synagogue and getting to know the members. Tamar brings her strong interpersonal and administrative skills to LSS as well as her personal commitment to Modern Orthodox Jewish life, tradition and community. Though her goals as ED are lofty, chief among them is to become an honorable link in LSS's humble and historical 1964 beginnings. It is truly an honor to be part of such a venerable institution.
Tamar received her B.S. from Queens College and earned her M.A. from Hofstra University in Marriage & Family Therapy. In addition to her Synagogue & Jewish communal work, Tamar is a published author whose writing has appeared in both book form and periodicals. Fluent in Hebrew & raised steeped in both Israeli and American culture, Tamar is equally at home in each. Tamar currently resides in Queens, NY with her four year old son Nate. You can email Tamar at tamar@lss.org or reach her by calling (212) 874-6100 ext 101
Robin Epstein, Administrative Assistant
Originally from Englewood NJ, Robin is now a resident of the Upper East Side. She graduated from Yeshiva University with a Bachelors in Science and has experience in multitude fields including jewelry, sales, finance and as a personal assistant. Robin is always looking to accomplish the task at hand swiftly and efficiently, and utilizes her strong organizational skills to do so. Her ability to be flexible and juggle multiple projects at once are sure to make her a great addition to LSS. Robin is always looking to lend a helping hand as she is passionate about giving to those around her. She believes that kindness and a smile is the best way to approach any situation and truly looks forward to getting to know our members.
You can reach Robin at robin@lss.org or by calling 212-874-6100 ext 105
Devora Movtady, Finance Administrator

Devora attended Yeshiva University, with a concentration in History. She spent many summers in Israel coordinating and organizing group shabbat meals in Jersualem for Birthright participants. After working as a bank teller in Great Neck, she became a credit analyst at Wisdom Portfolio services. Her passion to serve the Jewish Community led Devora to Lincoln Square Synagogue, where she became the Finance Administrator in 2013. She currently resides on Long Island.
You can reach Devora at devora@lss.org or by calling 212-874-6100 ext 106
Shira Felberbaum LMSW, MS is a licensed social worker from The Jewish Board via UJA's Partners in Caring Program, who are now available to the community to engage in short term supportive counseling, connect you with ongoing sources of support, and to facilitate a wide range of support groups and educational workshops.
Shira provides confidential one-on-one and group consultations on a variety of matters pertaining to personal and professional transitions (i.e. unemployment, underemployment, illness, bereavement, caregiving, divorce, retirement, infertility, marriage, birth, and adoption) as well as life challenges (i.e. special needs, mental illness, addiction and recovery, elder abuse, domestic violence, lack of financial resources for food and shelter. You can email Shira at socialworker@lss.org or by calling (212) 874-6100 ext 103
Ruth Kobrin, LMSW is a senior social worker with the Jewish Board, and works as a Jewish consultant in the Partners in Caring program of UJA/Federation.
A graduate of the NYU School of Social Work, she has served as a senior therapist and social worker at area synagogues for over eighteen years. She provides counselling to the entire congregational community, facilitates support groups, offers workshops in Jewish family life education, creates programs of interest to the congregations, and provides individual referrals to human service agencies.
She has served on various UJA/Federation committees and was president of the Joint Passover Association which annually aided over 15,000 needy Jewish in the metropolitan area. She and her family live on the West Side and are members of several orthodox synagogues. You can email Ruth at socialworker@lss.org or by calling (212) 874-6100 ext 103
Meet Our Security Staff
Victor Paterno
Jose Velez
Felix Sanchez
Meet Our Facility Staff
Byron Johnson
Facility Manager
You can reach Byron by emailing him at byron@lss.org or by calling (212) 874-6100 ext. 102
Antonio

Heimy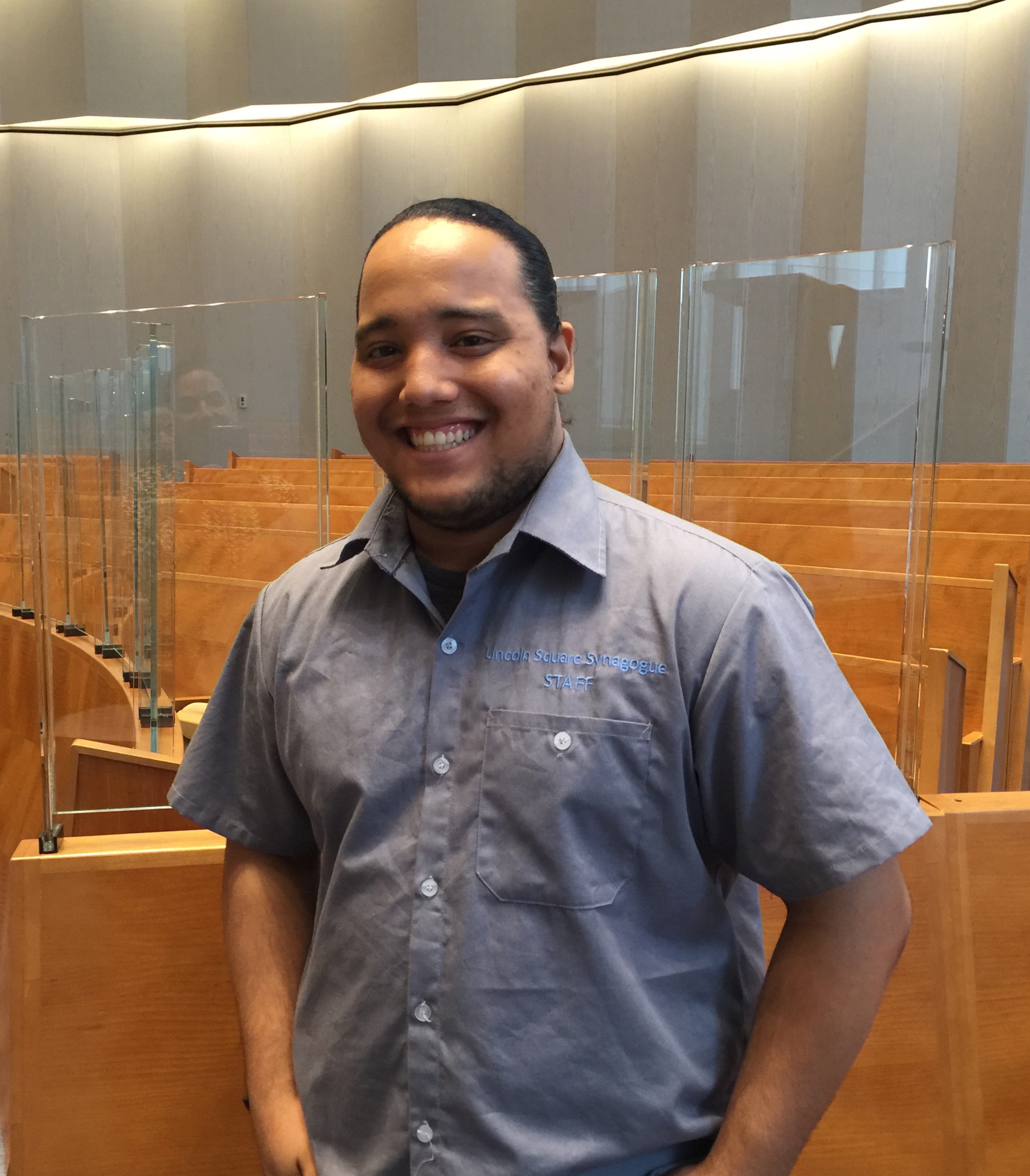 Rosa
Charlie
Pedro
Fri, August 18 2017 26 Av 5777